SHIPMENT OF AGRICULTURAL CARGOS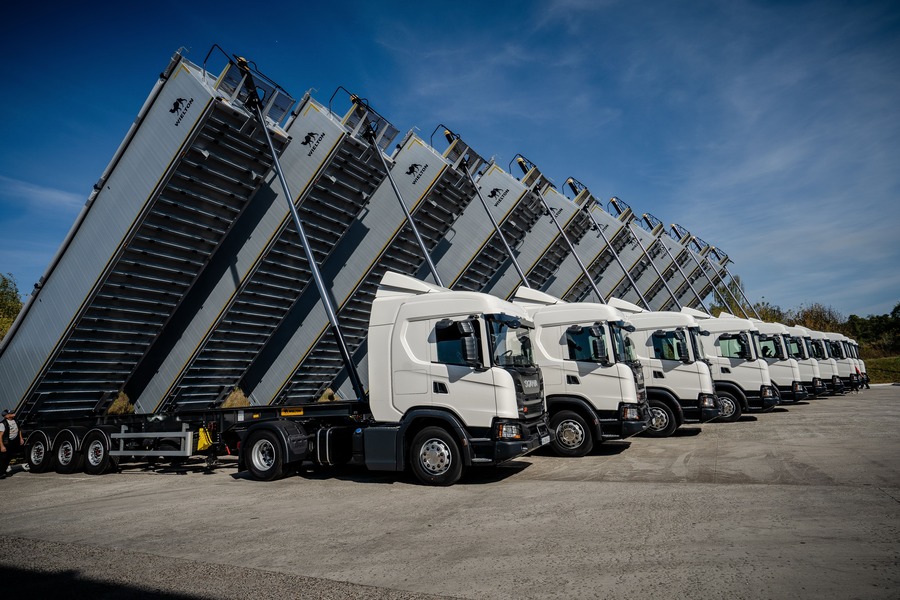 Starting in 2019, one of the Fozzy Group's divisions became a full-fledged participant in the shipping industry with its own vehicles. Fozzy Group purchased new Scania grain trucks with Wielton dump semi-trailers to transport bulk cargos.
We are engaged in shipment of agricultural and other products, including grain, legumes, oilseeds, their processed products, and bulk cargoes across all territory of Ukraine.
From now on, any farmer can order transportation by new vehicles. Our goal is to provide high-quality technological support and mutually beneficial cooperation.
We have our own fleet of 10 new modern Scania G440 trucks with a built-in GPS navigation system, a load capacity of up to 25 tons and Wielton NW3 dump semi-trailers with a volume of up to 56 m3.
The ability to completely remove covers from our semi-trailers greatly simplifies the loading and unloading process. The vehicles meet Euro-5 environmental standards. Our stations equipped with repair bases always maintain the grain trucks in a proper operating condition.
We work not just with drivers, but with a team of professionals who are ready to deliver your cargo from point A to point B as quickly and safely as possible.
Our company is always open for a dialogue and consideration of our customers' proposals to improve our cooperation. We are interested in long-term and mutually beneficial cooperation as a shipment business partner.